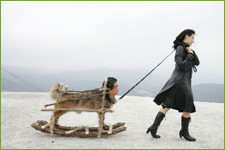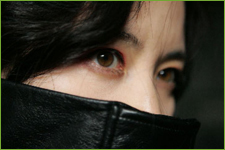 Plot summary (via Amazon.com):
After a 13-year imprisonment for the kidnap and murder of a 6 year old boy, beautiful Lee Guem-ja starts seeking revenge on the man that was really responsible for the boy's death. With the help of fellow inmates and reunited with her daughter, she gets closer and closer to her goal. But will her actions lead to the relief she seeks?

Impressions:

b0nes:
At first this movie can seem really strange or confusing, but it turns out to be a really solid and enjoyable flick. Chock-full of some of the strangest imagery and mind trips (as you can see from some of the images above), the story takes you on a quest for vengeance planned out by a woman who just got out of prison for murdering a young boy.
MushroomSamba:
As the final installment of Park Chan-Wook's "Revenge Trilogy", Sympathy for Lady Vengeance rounds out the trio with a bang. Each can be taken as a standalone film; however, if you've seen the director's past works, you've undoubtedly already have a good sense of what to expect. While many consider this to be the "weaker" of the three (Old Boy and Sympathy for Mr. Vengeance are the other two), it nevertheless provides a calculating tale of revenge with engrossing characters.
As a warning to the non-initiated, the content in the SfLV is not for the weak of heart. We are taken into the minds of rather unassuming, normal people as they plan and conflict over carrying out their vengeful intentions. I particularly enjoyed the dichotomy in Geum Ja's character, as she steels her heart for the cold acts she must commit then opens it to her long-lost daughter, in a fashion reminiscent to Tarantino's Kill Bill 2.
Park Chan-Wook crafts his theme of redemption through beautiful imagery and masterful cinematography, leaving you surprisingly awed by the "art" found in such sadism and morbidity presented throughout the movie. Black humor along with blunt, yet captivating, dialogue are frequent and help maintain a level of absurdity in the film's tone. When it comes time to get down and dirty, the scenes of violence are presented unabashed and raw, enhancing the severity of the murderous actions.
In closing, if you enjoy gritty revenge flicks, or the director's prior films, this should definitely be on your list of things to check out.
Conclusive banter:
MushroomSamba:
So, I'd give Sympathy for Lady Vengeance 8 out of 9 fingers of death. All the elements were presented effectively in a tight package, with many memorable scenes and images sticking to mind. How about you?

b0nes:
Yeah I think it's definitely up there. The cinematography was really well done. The imagery was absolutely engrossing and well incorporated to fit the story and state of mind. All-in-all it was a really enjoyable movie and must-see for those who like graphic revenge flicks.
Final Rating: 9
ps: I know it's quite strange that our first post is about a Korean movie. We'll be making our next post about an anime soon.